BLOG
Website Optimisation Tactics that are Essential for your Business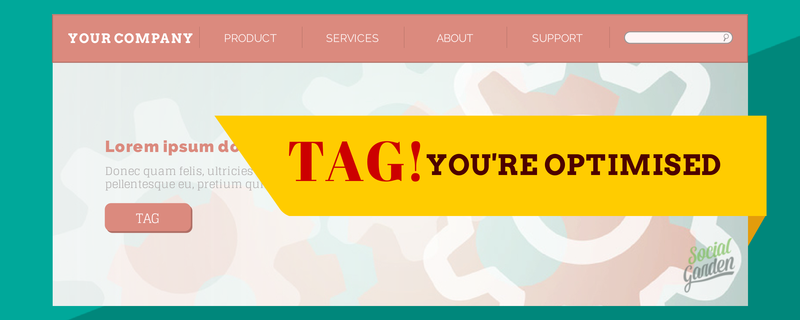 Looking to optimise our websites and ecommerce solutions should start with a solid fundamental understanding of both HTML/XML coding and how search engines (especially Google) read our websites. Following is a list of simple steps we can take to improve our websites SEO (Search Engine Optimisation) rating. Some of these ideas are well known, but taking a critical look at your website's layout and reviewing the existing pages will no doubt turn up areas we can improve upon.
Being comfortable popping open our website's internal code and taking a good look under the hood is essential for website optimisation. You won't be able to get the best results if you're not willing to buckle down and learn that HTML/XML syntax. The work put in is immediately rewarding, and the languages aren't as scary as their acronyms would have you think. An important starting point in HTML I'd like to focus on is proper use if the <title> tag.
The <title> tag is the most important point to assess, and the simplest for us to reach when optimising our sites. The <title> tag should be stuck in the <head> tag at the start of our document. These are required in all HTML documents, and are seen by users, browsers, and search engines. We're looking to get the most out of this key piece of information. Titles appear on our Google search results, as well as the name of the tab in our browsers toolbar. When looking to improve search results remember a few key points on the <title> tag:
Title contents are used by search engines when providing the link. This will be the part of the link that visitors click on when coming in to your website.
Titles must be unique for each page. This tells our Search Engine which is most relevant. Be sure to clear out any <title> "New Page" or <title> "Document 1" and assign helpful names.
Keep titles brief, 3-4 words, or they may be cut off (and look unprofessional).
<title> This page is about learning how to write properly sized title tags in our HTML documents and will always come up on the first page of a Google search </title>
This example of a terrible title tag above leads us nicely into a second very helpful point we must address when looking to fix up our website. How do we get out more information when we only have the few words used in a title? In HTML we use the "Description" meta tag.
When writing our <title> tag above, we found that it's best to only use two to three words. When writing in the "description" meta tag we're allowed to expand slightly and include more details. The "description" meta tag is used by search engines to pull out the paragraph of text found directly beneath the link returned when using a search engine.
Providing an SEO friendly description in a properly formatted meta tag will help us direct in traffic by improving our position on any given search. When a user goes searching for our website, Google goes hunting and will return with the name of our website, the title of the page returned (<title>) and a brief "snippet" that will either be the contents of the "description" meta tag, or will be a chunk of our content.
Make sure your "description" meta tag is placed immediately following the </title> closing tag and reopens with <meta name="description" content="Your Website Info">. Your meta tags don't need a </meta> closing tag, but they do need to be kept inside the <head></head> area. Keeping this standard format over all your pages allows search engines to quickly and accurately pull out the page that best fits the results entered. Once again, make sure the description of each page is unique and accurately fits the title provided.
Once we have fixed all of our page titles and descriptions, we can find out exactly what the users are going to see. The third part of a Google search result is the URL that will redirect the users to our page. Make sure the URL for each page is written clearly and in a user friendly way. The URL can repeat the title of the page, and often repeating ourselves will be the best way to title our pages and URLs. If possible, you can use words in the URL to best fit the description, it will have a higher clickability factor than a URL with internal location numbers "…document/224144" is not as clickable as "…document/how-to-train-your-dragon"
Now that we've gone through and figured everything a Search Engine will return to the user, we can assess our website's accessibility to the search engine. This is much more variable, and will depend heavily on the website layout and the type of website we're improving, but the basic tenets of web design hold true throughout. Keeping our directory structure clear and without joining branches is a great way to allow specific pages to be returned. If your website has many articles, perhaps written over several years, you will want the search engine to be able to pull up any article when it is requested. The search engine will access our websites directory, and will fly through looking for an appropriate match. If you've followed the earlier instructions on <title> tags, "description" meta data tags, and proper URL naming conventions, the correct article will be returned. The nice directory system will also be helpful in expanding or cleaning out your website of defunct or unsupported pages. This should be standard practice, but when dealing with many people creating, updating, removing, editing and otherwise meddling with your beautiful site, going back over and making sure your directories are updated and reorganised.
Try not to make dramatic directory changes often, but as with titles, descriptions and URLs there's always room for a little updating and straightening. When looking to optimise your website for search engines, we look to keep our formatting consistent, our titles accurate, and our directories clean.