Australia's Most Effective Performance Marketing Agency
We're Australia's most effective performance marketing agency. We deliver performance-driven social media advertising and marketing automation solutions to scale our client's revenue and improve their customer experience.
On the property side of our business, we attract and convert new home buyers into sales opportunities and appointments for volume home builders and property developers.
On the education side of the business, we attract and convert international/domestic prospective students into enrolments for TAFEs and Universities.
Our unique approach to marketing is fuelled by our ability to harness data to match and target consumers who are looking to buy.
We're obsessed with our customers cost-per-sale/cost-per-enrollment. We measure everything and provide actionable insights into how our customers can improve their marketing and increase their sales/enrollments.

Drive Measurable Growth
Our products and services are oriented around your sales revenue and targets. We measure and report on cost per sale by channel and audience segment.

Challenge The Status Quo
We're not your typical agency. We really understand the industries we work across. We develop bespoke solutions to help marketers get measurable results.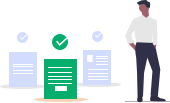 Data-driven Optimisation
Our approach to data-driven advertising is backed by real science. Learn about how we leverage exclusive data partnerships to fast track campaign performance.